Band Members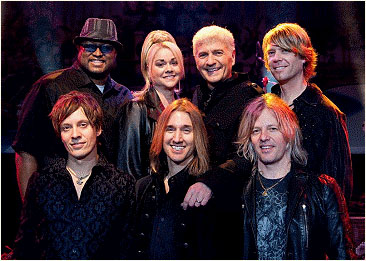 New Band
With the additions of August Zadra and Craig Carter the sound the look and the spirit of the new band has reached heights I could have only dreamed of. This has begun stage two of my solo live performance career.
I began stage one of these solo journeys some 10 years ago with an out of the blue offer from Tim Orchard to put together an orchestra show for a single concert at the Rosemont Theater in 2000. I enlisted a group of fine musicians I had worked with several times in the past. There was no intention to create anything other than a good show with rock band and orchestra. Dawn Feusi was brought in to sing Styx harmony and perform selections from the Hunchback of Notre Dame as part of a retrospective on my career. This included Styx, my solo rock work and Broadway. Because of the success of this show I was chosen to be the pilot for the new Public Television Soundstage program. "Dennis DeYoung and Friends" went on to be the most lucrative pledge show for PBS from this series, pledging over 100 cities across the country raising over 2 million dollars in the process, thanks to viewers like you. From this initial concept I began to get offers to perform with and without the orchestra and simply kept the same band for both shows. My set list consisted of the Styx songs that I had written and sung and remained that way until January this year.
Hank Horton my bass player and high harmony singer informed me last fall that he would be leaving the band to play in the pit orchestra for 100 Dalmatians, so I was compelled to consider changes. As I searched for a bass player Craig Carter was suggested and a demo was sent. "Great Caesars Ghost" was it good. Not only could he play bass and sing lead but he was an accomplished songwriter as well. So the search was over. Not so fast, late one night my son woke me at 12:30 at night and told me to go down to the computer and check out something he found on youtube. There was August Zadra singing Blue Collar Man in a Styx tribute band, "Mother Of Pearl" are you kidding me. I knew then and there it was time for action. Needless to say my son Matthew is still in the will and may be receiving a slightly higher amount then my daughter CarrieAnn. (Not really). August was so good at recreating a sound that both you and I have come to love that I knew I must give this thing a shot. And what a shot it has been to me personally. When we perform our new show the audience is ecstatic for they're finally getting what they have wanted from the beginning and that's ALL the songs they have come to know and appreciate. No longer would they have to settle for less. Alleluia!
The new blood has given more responsibilities to Jimmy Leahey on lead guitar and brothers and sister he's laying down guitar work that's both dazzling and tasteful. Tom Sharpe has found the perfect balance between being true to John Panozzo and modernization, without trying to over complicate. Good drumming should always serve the song. John Blasucci continues to recreate layers of keyboards that best remind us of the brilliance of the original keyboardist. (Sorry John I couldn't help myself) These changes have also brought me back to the keys, something that many of you have been wanting for some time. I must admit it has been great fun reminding myself that I was the guy who invented that stuff and played it.
The interaction between August and Jimmy both musically and in terms of stage presence has made feel like I'm back in 1981 until I look in the mirror and wonder how my dad has gotten into this band.
Special thanks to August for authenticating a vital part to our sound and to Craig for the effortless high harmonies. (Remember dude as a rule I never hire any band mate taller than me so practice the crouch). As always Suzanne sings her heart and always has my back.
Finally if you haven't seen the new band I urge you to come out and take a look see, you won't be disappointed.
Dennis
July 29, 2010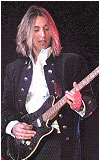 August Zadra
August joined Dennis in 2010 on lead guitar and vocals. Since the age of 15, guitar playing has been a passion that pulled August from Fairbanks, Alaska, to Hollywood, California, where he attended and graduated from the Guitar Institute of Technology. His roots are in classic rock and, while raising a family, he chose to focus his musical talents on paying tribute to some of his greatest inspirations. August has been a constant in the Los Angeles music scene for the past 20 years, playing with a variety of bands and is often sought out as a guitarist/singer collaborator for recording projects. His guitar playing was featured nationally on VH-1 in a "You Rock With" segment, and he has performed with members of Boston, the Gin Blossoms, and Poison. August is endorsed by Ernie Ball/Music Man guitars, Splawn Amplification, Line 6, and GHS Strings. When he isn't living the dream on the road with Dennis DeYoung, August can be found performing with his Journey tribute band, LIGHTS, and spending time with his wife and daughters.
Please visit his official website.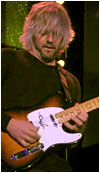 Jimmy Leahey
New Jerseyan Jimmy Leahey joined Dennis in 2008 on lead guitar and vocals. Jim has also toured and/or shared the stage with John Waite, Patti Smyth, Chris Cagle (CMT), Alison Krauss, Glen Burtnik, Jill Rock Jones (Bad Boy South), Grammy award winning DionneFarris and a host of others. Jim has appeared on Jay Leno, Good Morning America, VH1 Classic, The Grand Ole Opry, the US open, the Radio Music Awards and countless TV and radio stations. Jim's compositions and guitar playing has been featured on network TV, Disney Channel, The History Channel and countless cable programming. When off tour Jim enjoys his family, teaching and playing in New Jersey with many friends and music greats.
Please visit his official website.

John Blasucci
John joined Dennis in 2005 on keyboards. From artists like Richard Marx to Michael Bolton, John Blasucci has made a living helping others share their music with the world. As a composer, producer, programmer and pianist, John has racked up a healthy discography that includes work with Celine Dion, Josh Groban and 'N Sync. A regular on the contemporary jazz circuit, John is a member of red hot guitarist Nick Colionne's band and co-author of four of Colionne's Top Ten hits. A third generation pianist, he learned to love his instrument by listening to his father and grandfather play on the family piano. One of his early musical influences was teacher Alan Swain, whom he began studying with intensely during high school. John attended Northern Illinois University and after touring Europe and the US, he came home to the Chicago jazz circuit. Other work by John has included penning the Jewel Food Stores jingle, a song with the London Symphony Orchestra in a PBS documentary and work on Mattel's Barbie Nutcracker and Repunzel Suite movies. John is a Yamaha endorsed artist.
Please visit his official website.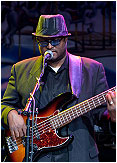 Craig Carter
Craig joined Dennis in 2010 on bass and vocals. He is a native of San Jose, CA. He has a degree in music theory and youth education from Mid-America Christian University in Oklahoma City. Craig now resides in Nashville and has extensive studio and touring experience in Christian, Gospel, and Country music working with artists including Cece Winans, Natalie Grant, Melinda Doolittle and Phil Keaggy to name just a few. Craig has toured extensively throughout North America, Europe, Asia, and the Caribbean. He is currently working on a new solo cd project title 10ft Tall where he showcases his wide range of talents including lead vocals,bass, and acoustic guitar.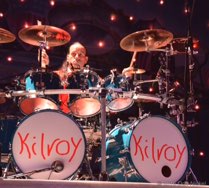 Michael Morales
Michael was born in Queens NY and moved to Long Island when he was 8. He started playing drums at the age of 13 where he studied with teachers Todd Turkisher (David Byrne, Selena, Steve Via, Randy Coven, Little Richard) and the great drum ambassador, Dom Famularo. He played with Evolution, the National Touring Journey Tribute band for over 10 years from 2001-2011. He's also played with Pete Byrne (Naked Eyes), Jim Peterick (Survivor), Mike Orlando (Adrenaline Mob), Brooke St James (Tyketto, Yellow Brick Road), guitarist Joe Cefalu, and toured with Terry Broc (Kansas, Strange Ways, Giant) in support of his Diamond Blue album. He also recorded the Soul Salvation album and toured throughout North America and Europe from 2007-2010. From 2010-2016, he recorded and toured on drums and vocals with former Journey lead singer, Steve Augeri (Tyketto, Tall Stories), throughout North America, England, Trinidad and Puerto Rico. Since February of 2016 he has been touring with Dennis DeYoung.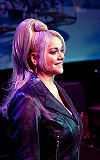 Suzanne DeYoung