Letters from Dennis
Hey everybody

This weekend we had two shows that are of note for very different reasons. The Nashville War Memorial Auditorium Friday night was attended by one of the youngest and most enthusiastic crowds I have seen in Nashville ever. Though the band hadn't played together for over three weeks all cylinders were firing and the audience was on their feet with standing O's throughout the night. Not the biggest crowd I have ever drawn but the original Grand Ole Opry venue was rockin.

In terms of attendance Saturday was the polar opposite. We played in front of the largest crowd I have ever performed for in my entire career, Styx included. 85,000, EIGHTY FIVE THOUSAND people showed up for the pre 4th of July shindig. Now I realize the good folks of Allen Texas (Dallas suburb)weren't all there just to see me but the sheer size was mind boggling. It reminded me of when I played Woodstock..oh wait that was Santana.

Former Dallas Cowboy Tony Hill event chairman has been asking me to play this event for over 6 years and I'm certainly glad we finally got it together. A lot people singing Best of Times and Come Sail Away like it were yesterday. Wow! Chatted for some time with Tony about football and the 1985 Bears whom he played against. Tales of Walter Payton and Randy White were shared to make the usual back stage banter far more interesting. He is a gentleman and a great guy and 4 time pro bowler. And speaking of sports.

BLACKHAWKS WIN STANLEY CUP!!!!!!!!!!!!

Congrats to the team and management of the Hawks especially Rocky Wirtz, John McDonnough and Stan Bowman. Quick story, I was having lunch with Rick Kogan of the Tribune last week when low and behold when I arrived he's sitting at a table next to Rocky Wirtz. Now I have never been a real Hockey fan, that was John Panozzo's deal but I have watched both Stanley Cup's the Hawks were in. So I admitted as much to Rocky and added that I was angry with him for fielding such a great team that I had to risk the stress of watching these gut wrenching overtime games unfold. I pointed out several times during the overtime I couldn't bear to look and kept clicking over to reruns of Downton Abbey for relief. He laughed and said he knew what I meant. Rocky was down to earth and completely without airs considering the amazing job he has spearheaded with the rise of the Blackhawks since taking the reins form his father.

At the end of the third period down 2 to 1 the Hawks scored 2 goals in 18 seconds to win. What a finish.

cheers, Dennis
---

Another Year
Hey everybody,
Another year come and gone wow! Thanks to everyone who bought a ticket, bought a cd (as if) downloaded a track or simply came here to see what I'm up to. Still 5'11", same as high school though I swear my pants are getting longer. (I was 6'2" in my platforms and my ankles still remember)
Taking a little break this January to recharge my batteries and have my nails done. I'm trying to decide between the Barbra Streisand or the Steven Tyler. Cast your vote below.
New DVD. I've toyed with the idea of recreating the Paradise theater tour one more time, janitor, back drops, simulated marquee and all but I'll have to get permission from the United Tour Association of That Again. Possible tour names are Paradise Now and Forever, Return to the Return of the Return of Paradise or simply Tonights The Night We'll Repeat History. We did recreate the scenic elements for a show in Montrreal in I think '08 but without some of the songs we currently perform. I have a copy of the original setlist from 1981 and It could be great with this band. I've already ordered one blond wig, an afro wig, a tux, a fake Tom Selleck moustache a space suit and a Shakey's Pizza uniform. Nothing like red satin pants on a 65 year old.Seriously I think this show will make a great DVD. Or maybe will just do The Serpent Is Rising start to finish including Handel's Messiah done with the Moron Tabernacle Choir. They're not as good as the Mormons but their cheaper. I believe I just heard the sound of no tickets being sold. Good grief get this guy a shot at open mic night at Zanies Comedy Club.
Fans at the meet and greets have asked me several recurring questions.
Here are some.
Q: Any chance of a reunion?
A: Sheesh! Quick someone check to see if there's still an ice flow on the river.
http://www.rollingstone.com/music/news/dennis-deyoung-open-to-a-styx-reunion-20110727
http://www.rollingstone.com/music/news/styx-no-reunion-with-former-frontman-dennis-deyoung-20110707
.
Q: How about a new cd?
A: What's a cd? The new music business is geared toward singles not entire albums, kind of like 1962. Unless you appeal to a teen audience the days of albums being the driver of sales is over. (There will always be the exception to the rule see Adele)You could argue this is a good thing or bad. Listening to Grand Illusion I'd say it's a bad thing. However the Serpent... There is nothing more gratifying than an artist reaching for the Moon even if they crash to the earth in a ball of flames. I have however written and recorded some songs that I have been sitting on but I'm going to release. Stay tuned. By the way I listened to 100 years this past week and I'm quite sure I can't make a better album in that style.
Q: Where did the name Styx come from?
A: Bill Traut the man who signed us to Wooden Nickel Records suggested it and nobody hated it, Styx was born. Funny thing is I can't remember having any suggestion of my own which is odd for me. I will always be thankful to Traut for the opportunity to make records. However he never did anything either through promotion or musical advice to advance our career. He kept Lady off the first album insisting on 4 other songs he held publishing on, none of which were written by us.
Q: What happened between you and Tommy at the Children's Miracle Network show?
A: I have said this before and the story hasn't changed. I asked Tommy to postpone the release of BNW so we could make the album into a true Styx album with us all working together. There were no demands on my part, none just persuasion I had no leverage knowing that I had been replaced so I pleaded and appealed to his better judgement. Tommy told me that he believed the album was great the way it was. Any inference that this was a confrontation is a lie. I've always felt BNW is an album that could have been terrific. No Styx album would have been good had it been recorded the way BNW was. Having said that there are a couple of songs that would not have made the cut but more importantly what makes a band great is interaction.
Q: Did Kilroy cause the bands breakup?
A: No because the band did not break up, Tommy quit. The band would have continued without Tommy had I agreed with my fellow bandmates to replace him. I thought it best to allow Tommy some time to sort things out.
Q: What's it like playing Styx songs that you did not write, and how about Castle Walls?
A: Great it's as close to what Styx fans want that I can provide. I didn't want to sing them myself or have some mook up there ruining them. August Zadra ain't no mook he does them masterfully. By the way I get you like Castle Walls just remember I was the first one to play it and did so for 6 years, look for it's return. The new band members have been bugging me for 2 years about playing it.
Q: What's your favorite color?
A: Red cause it matches my eyes.
The Doctor
Hey everybody,
People have speculated on my nickname the Dr. and it's origins for some time, so here's the real story.
When the band was first starting out in the early Styx days John Panozzo supplemented his income by working part time in a music store in the drum department. Tells ya what kind or money these rock stars were making. I worked part time for the C.I.A. (no I didn't) One day a young man came in the store and struck up a conversation with John about drums and such. He had recently seen one of our concerts. During the conversation he asked John "How does doc tune his organ?" John said who, what? To which the guy responded "doc your keyboard player".
Well first you do not tune an organ and second how this guy thought my name was doc is still a mystery.
After John related this story we laughed our cookies off and little by little John, then the other guys began to refer to me jokingly as doc. It stuck, how stupid is that. Real stupid. But there my friends is the true story. Later we worked this nickname into the show in this manner. During the encore everyone but me would return to the stage. Tommy would then proclaim that someone was missing and had anyone seen the doctor. He would then get the crowd to yell come on out doctor whereby I would come out onstage with a white coat and stethoscope and prescribe more rock and roll for the audience. High class stuff. Hell the audience loved it.
Years later when Glenn joined the band we began referring to each other as Denny and Glenny as a joke, this also stuck. No Sting or the Boss for me, oh well.
cheers ddy
Hey everybody,
What a summer whew! The audiences keep growing and growing as witnessed in Blue Ash Ohio a Cincinnati suburb this past Saturday when over 20,000 people showed up for a good time. We played there in 2007 to a nice crowd but this was ridiculous.(The word has spread) Wherever we have gone whether South Dakota, Quebec or Florida the enthusiasm and sheer number of fans has been stunning. Over 4000 at the Hard Rock Casino in Hollywood Florida on a Monday night, great Caesar's ghost. Largest crowd ever at the Quebec city Expo all singing Suite Madame Blue at the top of their lungs, simply remarkable. At the meet and greets fans keep telling me how much they love the set list which allows them to hear all their favorites and how much this band brings back their fondest memories of days gone by. I feel the same way. Over 10,00 in Watertown, Kokomo, Milwaukee, and St. Agath. This makes a 65 year old quite grateful for the fans who have literally believed these lyrics "If the world turned upside down baby I know You'd always be around", here's to the Best of Times.
- ddy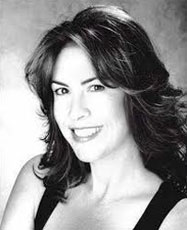 Hey everybody,
I write today with some bad news. My sister in law and former band member Dawn Feusi is in the hospital fighting a brain tumor. This has all transpired in a matter of weeks seemingly out of the blue and as you can imagine it has been quite a blow to all those who have known and loved her. She is receiving great care in her home town of San Diego where she and her son Thomas had recently returned. Thomas is only six so Dawn's brother Jim and wife Beverly have taken on the responsibility of his care until Dawn recovers. Sometimes life stinks and this is one of those times in spades. Please keep her in your prayers.
- ddy
Hola everybody!
I have just returned from my first concert ever in San Juan Puerto Rico and what an unbelievable experience it was. For years I have been telling the story of the first Styx concert in Montreal as the most memorable in my life but I must admit this one was equally and perhaps even more incredible. The sold out audience at the Centro de Bellas Artes was quite simply astonishing and humbling. They treated me as if I were a long lost friend who had saved their dog from being hit by a car and also promised them a considerable inheritance. Now I know what the Publishers Clearing House folks feel like when they knock on some winners door. Only this time I was the winner.
They sang nearly every song at the top of their lungs with such intensity that at times I could not hear myself or the guys in the band, Fabuloso! To the people of San Juan I can only say Muchas Gracias and Los Quiero. Can't wait to come back with my full band and do the rock show.
Below are some YouTube videos and although the quality can be varied I think you'll get the idea. Remember the occasional person singing off key is not me (oh sure). Having said that, as a group I have never heard a better singing audience. Biggest responses were to Don't Let It End, Show Me The Way, Desert Moon and Mr. Roboto.
http://www.youtube.com/watch?v=UvL-OqYD6PM
http://www.youtube.com/watch?v=2GOuvayt8q8
http://www.youtube.com/watch?v=VWQC8Q_BHXc
Cheers,
Dennis
Hit Rewind
Hey everybody,
I met House of Representives Dan Lipinski at a concert where I was performing a few years back and he mentioned to me how the lyrics to Rockin the Paradise held special meaning to him. I began to think about it and realized that these words I had written in 1980 sadly were once again relevant. The reason is simple, they were describing my feelings about the worst recession America had faced since the great depression, that is until now. The Reagan Carter campaign and the general malaise in the country are reflected in this song, and Best of Times. Hit rewind.
ROCKIN THE PARADISE
HEY WHAT YA DO'IN TONIGHT
HAVE YOU HEARD THE WORLDS GONE CRAZY
YOUNG AMERICANS LISTEN WHEN I SAY
THERE'S PEOPLE PUTTING US DOWN
I KNOW THEY'RE SAY'IN THAT WE'VE GONE LAZY
TO TELLYOU THE TRUTH WE'VE ALL SEEN BETTER DAYS.
DON'T NEED NO FAST BUCK LAME DUCK PROFITS FOR FUN
NO QUICK TRICK PLANS TAKE THE MONEY AND RUN
WE NEED THE LONG TERM SLOW BURN GETT'IN IT DONE
AND SOME STRAIGHT TALK'IN HARD WORK'IN SON OF A GUNS.
HEY WHAT YOU DO'IN TONIGHT
I GOT FAITH IN OUR GENERATION
LET'S STICK TOGETHER AND FUTURIZE OUR ATTITUDES
I AIN'T LOOK'IN TO FIGHT
BUT I KNOW WITH DETERMINATION
WE CHALLENGE THE SCHEMERS WHO CHEAT ALL THE RULES
IF WE TAKE PRIDE BE WISE IN SPOTT'IN THE FOOLS
BIG SHOTS CRACKPOTS BENDING THE RULES
A FAIR SHOT HERE FOR ME AND FOR YOU
KNOW'IN THAT WE CAN'T LOSE THE THEN WE'LL BE
ROCK'IN THE PARADISE ROCK'IN THE PARADISE TONIGHT
ROCK'IN THE PARADISE ROCK'IN IN PARADISE TONIGHT

THE BEST OF TIMES
TONIGHTS THE NIGHT WE'LL MAKE HISTORY
HONEY YOU AND I
AND I'LL TAKE ANY RISK TO TIE BACK THE HANDS OF TIME
AND STAY WITH YOU HERE TONIGHT TONIGHT
I KNOW YOU FEEL THESE ARE THE WORST OF TIMES AND I DO BELIEVE IT'S TRUE
WHEN PEOPLE LOCK THEIR DOORS AND HIDE INSIDE
AND RUMOUR HAS IT IT'S THE END OF PARADISE
BUT I KNOW IF THE WORLD TURNED UPSIDE DOWN
BABY I KNOW YOU'D ALWAYS BE AROUIND MY MY
THE BEST OF TIMES ARE WHEN I'M ALONE WITH YOU
SOME RAIN SOME SHINE WE'LL MAKE THIS A WORLD FOR TWO
OUR MEMORIES OF YESTERDAY WILL LAST A LIFETIME
WE'LL TAKE THE BEST FORGET THE REST AND SOMEDAY WE'LL FIND
THESE ARE THE BEST OF TIMES
THE HEADLINES READ THESE ARE THE WORST OF TIMES
AND I DO BELIEVE IT'S TRUE
I FEEL SO HELPLESS LIKE A BOAT AGAINST THE TIDE
HOW I WISH THE SUMMER BREEZE COULD BRING BACK PARADISE
BUT I KNOW IF THE WORLD JUST PASSED ME BY BABY I KNOW
I WOULDN'T HAVE TO CRY NO NO (repeat chorus)
Cheers,
Dennis
October 14, 2011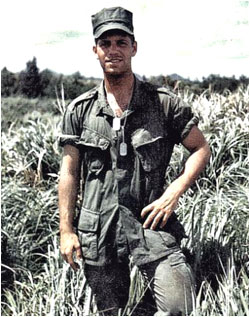 In Memoriam - Charles Lofrano
When you lose your best friend there's a hole in your heart that even time can't fill. The 40 plus years spent in countless effortless conversations about history, politics, sports, entertainment and life in general cannot be substituted by some new voice no matter how pleasant, or well intentioned. All the good times you shared cannot be replaced.
This is the case for me with the loss of my brother-in-law and best friend Chuck Lofrano.
As a friend he was a man's man, fiercely loyal and always supportive of me without any expectation of quid pro quo. What friends are supposed be but so often are not. He wished the best for me and my family as though it were his own.
Joined by marriage and both of Italian descent "a la familia" was something we would toast each other at our many family gatherings. He loved his family, his wife Pam and children Dena, Lisa and Allison but oh how he reveled in his grandchildren, 7 to be exact.
A born optimist, his glass was remarkably half full regardless of the seriousness of the situation. Never was this more apparent than with his dire health struggles of the last 7 years. He was first and foremost a Marine. Disabled in battle and recently plagued by kidney disease, heart disease and finally cancer, he somehow remained determined and optimistic about the future.
Even spear-heading next summers Grant Park 25th reunion of the Welcome Home Parade for Viet Nam Veterans. He kept working on this event despite the knowledge that he might not live to see it. No "Why Me'ing" from this guy. I don't know how he managed it and I told him so many times.
Don't get me wrong now, like all of us he was not without his flaws, many of which were ultimately attributed to undiagnosed PTSD from Viet Nam. He came to grips with fact only after he began writing about his wartime experiences in his book, "In Spite Of It All", in the last years of his life.
The dignity and stoicism he exhibited as he fought his final struggles with his health made him a hero to me more than anything he could have ever accomplished in the jungles of Viet Nam. Once we were chatting about this and that when he told me if necessary he would lay down his life for me and they weren't just words, he meant it. No man had a better friend.
Farewell good soldier, the battle done, rest peacefully. Semper Fi
Love, Dennis and Suzanne
August 25, 2010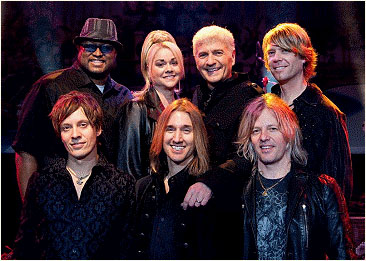 New Band
With the additions of August Zadra and Craig Carter the sound the look and the spirit of the new band has reached heights I could have only dreamed of. This has begun stage two of my solo live performance career.
I began stage one of these solo journeys some 10 years ago with an out of the blue offer from Tim Orchard to put together an orchestra show for a single concert at the Rosemont Theater in 2000. I enlisted a group of fine musicians I had worked with several times in the past. There was no intention to create anything other than a good show with rock band and orchestra. Dawn Feusi was brought in to sing Styx harmony and perform selections from the Hunchback of Notre Dame as part of a retrospective on my career. This included Styx, my solo rock work and Broadway. Because of the success of this show I was chosen to be the pilot for the new Public Television Soundstage program. "Dennis DeYoung and Friends" went on to be the most lucrative pledge show for PBS from this series, pledging over 100 cities across the country raising over 2 million dollars in the process, thanks to viewers like you. From this initial concept I began to get offers to perform with and without the orchestra and simply kept the same band for both shows. My set list consisted of the Styx songs that I had written and sung and remained that way until January this year.
Hank Horton my bass player and high harmony singer informed me last fall that he would be leaving the band to play in the pit orchestra for 100 Dalmatians, so I was compelled to consider changes. As I searched for a bass player Craig Carter was suggested and a demo was sent. "Great Caesars Ghost" was it good. Not only could he play bass and sing lead but he was an accomplished songwriter as well. So the search was over. Not so fast, late one night my son woke me at 12:30 at night and told me to go down to the computer and check out something he found on youtube. There was August Zadra singing Blue Collar Man in a Styx tribute band, "Mother Of Pearl" are you kidding me. I knew then and there it was time for action. Needless to say my son Matthew is still in the will and may be receiving a slightly higher amount then my daughter CarrieAnn. (Not really). August was so good at recreating a sound that both you and I have come to love that I knew I must give this thing a shot. And what a shot it has been to me personally. When we perform our new show the audience is ecstatic for they're finally getting what they have wanted from the beginning and that's ALL the songs they have come to know and appreciate. No longer would they have to settle for less. Alleluia!
The new blood has given more responsibilities to Jimmy Leahey on lead guitar and brothers and sister he's laying down guitar work that's both dazzling and tasteful. Tom Sharpe has found the perfect balance between being true to John Panozzo and modernization, without trying to over complicate. Good drumming should always serve the song. John Blasucci continues to recreate layers of keyboards that best remind us of the brilliance of the original keyboardist. (Sorry John I couldn't help myself) These changes have also brought me back to the keys, something that many of you have been wanting for some time. I must admit it has been great fun reminding myself that I was the guy who invented that stuff and played it.
The interaction between August and Jimmy both musically and in terms of stage presence has made feel like I'm back in 1981 until I look in the mirror and wonder how my dad has gotten into this band.
Special thanks to August for authenticating a vital part to our sound and to Craig for the effortless high harmonies. (Remember dude as a rule I never hire any band mate taller than me so practice the crouch). As always Suzanne sings her heart and always has my back.
Finally if you haven't seen the new band I urge you to come out and take a look see, you won't be disappointed.
Dennis
July 29, 2010
Hello Everybody....
It's been a while since I've posted and a great deal has happened. A new president, and he's a White Sox fan, Brad and Angelina are about to split yet again,(I know this cause I was just at the supermarket) there's more evidence of global warming (llinois politicians hot air increases are risks) and last but not least it appears Rounder Records is releasing the U.S. version of "One Hundred Years From Now" in April. Some of you may have believed that there was about as much chance of this CD being released stateside as America electing an African American president...
The delay was due to many factors not the least of which was the unexpected amount of time needed to work on the Hunchback. It's extended run and Jefferson Award for Best Musical were welcomed but not anticipated situations. When we extended the show a new cast was required and rehearsals became necessary. This did become quite time consuming. Here's hoping I always have these kinds of problems.
With the addition of the German tour, which by the way was quite a spectacle, I performed about 70 concerts last year and added two new tracks to One Hundred Years. Caution: Do NOT have an album you have already finished siting in your home studio for nearly two years. You will hear the sirens sweetly singing, luring you back to the mixing console to fix all the little things that you didn't like about the album. Note to self, if you're looking for perfection son, you've come to the wrong planet. I did remix some tracks on the original CD and I believe I have improved them, however my left ear is still periodically spotting blood. Which I guess is still an improvement over that Van Gogh dude.
As for One Hundred Years From Now the song, those of you who have written me and expressed your desire to hear me sing it by myself, you have gotten your wish. The president of Rounder Records John Vi rant has held that opinion for over a year, this after I'd sent him the all English version with me singing both parts.
After performing this song in concert by myself and with three different French artists I realized that when the original vocalist who performed on the record is not available it seems a bit odd. Problem solved, I intend to be there now every time I perform it. Well nearly.
The two new songs are Private Jones and There Was A Time, welcomed editions both. I did drop one song from the Canadian version, My Sharrona, I admit it was a bit repetitive.
Random thoughts:
I have to confess that I really do like the recording artists, TV and movie sites on You Tube. I have never looked at any of the other videos other then the ones pertaining to entertainment. But its truly amazing the history that has been uncovered to the public. I love the old Beatles stuff and the interviews with the artists and performances that I never knew existed, fascinating. One thing I have learned in watching old footage of myself while in the band was Hey, I'm better then I remembered. I guess that's one of the annoying parts of my personality, that in the moment I always feel I should have done better, you know not quite up to expectations. But upon further review when I thought I might cringe at what I was about to see and hear I was instead pleasantly surprised. (Wardrobe aside of course. I mean who in the Sam Hill dressed this guy, Mr. DeYoung Shaky's Pizza called, they want their clothes back: note to all you youngsters with the tats and pierced body parts and new ways to wear your hats askew, your future awaits you)
Also I noticed that the band's most watched video's are Come Sail Away, over a million views, Babe over a million views(although unfortunately this week it appears to have been taken down) Lady over 700,000 views and had Mr. Roboto not been taken down earlier this year it would now most likely have been over 1,500,000 views. I based this on the fact that Roboto always substantially led all of our other video's including Come Sail Away by a wide margin. That Roboto, he's like the Energizer Bunny. I wonder what the process is as to the comings and goings of these videos? Perhaps Babe and Roboto are resting peacefully in cyberspace plotting their return so they might continue to annoy a small group of people who somehow believe these tunes were a mistake. If they were I wish we would have had another 10 mistakes just like them, and I mean it. It is so difficult to write a song that first passes muster with your record company,(they will need to be convinced, see "Lady", Lorelei and Sweet Madame Blue as examples) then radio,(who are skeptical that anything is a hit record)to finally satisfying millions of strangers who must then go forth and put down their hard earned cash on the counter, well you get the picture. So when it does happen and then has the good fortune to remain popular for decades, I say fall on your knees and give thanks for your good fortune, cause that's what I do nearly every day. To all of you who have supported me these 37 years whether from the beginning or since last Thursday I offer a heartfelt THANKS FOR EVERYTHING.
I will be touring this year as I have since 2003 although who knows what the economy will be like. My time spent in Germany, England, Belgium and Italy this year informs me that after the USA jumped down the rabbit hole the whole world gladly went with us. To all of you who have been hit hard by the greed and stupidity of those supposedly watching the store I wish only good things, and though it sounds corny, health is always the most important thing. May the wind always be at your back and may the Bird of Paradise not fly up your nose.
There's that damn Paradise word again, I swore I'd stop using it...
Dennis
January 28, 2009
Hey everybody,
First I would like to wish my wife Suzanne a happy 38th anniversary. We celebrated as we have too many times on the road while we were working. After the show we had cake and it was awesome. I think I'll request cake at all my shows, after all, everything goes good with cake. All my to love to Suzanne for putting my career above all else, baby you're the greatest.
From the luckiest guy I know,
Dennis
Some quick thoughts and updates: I am pleased and proud to announce that the release in the USA of "100 Years From Now" will be on Rounder Records. The president of Rounder, John Virant, and I first met in New York at my rock symphony show at the Beacon. His company is the distributor of my live album in the states and now much to my surprise he has decided to be the official record company for "100 Years".(100 Years the CD, not the duration of the record contract.) The record business is in such a state of flux that quite frankly I'm gratified that John has belief in me. When he received the Canadian CD he called me and talked enthusiastically about the music. How refreshing! The album will have two new tracks, "Private Jones" and "There Was A Time." In addition, there will be an all English version duet of the title track. The release date and my duet partner are still being determined. The album is ready to go today except for the duet. John and I are looking for the right match. Some early candidates: Jim Nabors (the southern strategy), Florence Henderson (that Brady Bunch thing), Axl Rose (projected release 2030) and of course my first choice Jerry Lewis, my inspiration for "Lady".
New Year's Eve was something else. We performed in Queen Victoria Park on the Canadian side of Niagara Falls. From the stage looking left we had an unbelievable view of both the American and Canadian falls. It was nationally televised throughout Canada. Just for the record, it was 25 degrees Fahrenheit when we began to perform the first of two sets of music. We played for 55 minutes then broke for fifteen, came back for TV and did 5 songs. They had placed some portable propane heaters around the stage. Too close to one and you'd get third degree burns, two feet away and they could chip ice off your tush for a frozen Daiquiri. That being said the audience was incredible, after all they had no heaters and they stood there for nearly three hours. Once again the people of Canada have been enormously supportive of my music. By the way it was the first time I have ever performed Suite Madame Blue, and actually turned blue.
'08: I'll be on the road performing both the band and the rock symphony show hopefully in a city close to you so you can come out and enjoy the party. As I have already mentioned my CD will be released in the US and The Hunchback will be produced at the Bailiwick in Chicago May and June. In my spare time I plan to be sleeping and have Suzanne peel grapes for me for nourishment.
See ya in the funny papers.
Dennis
January 24, 2008
Hey Everybody,
Zippidee do dah zippidee heck,
I'm number one up north in Quebec
Truth be told, I would have bet the farm that such a thing could never in million years happen. Wow! That sentence sounds like Damon Runyon. Any moment now, I half expect Nathan Detroit to place odds on such a long shot possibility. I mean, really, having a #1 pop single, rock track and AC, seems surreal. In Canada this, of course, is known as "the hat trick". Never in my wildest dreams could I have expected this. To have a #1 record anywhere is amazing, even if it were Afghanistan, Turkmenistan or StanMusialstan, let alone Quebec, one of the most vibrant and knowledgeable musical scenes in all North America. Quebec, after all, discovered Styx before the USA. (We were actually discovered shivering in the snow on the banks of the Saint Lawrence Seaway). Merci Beaucoup and many thanks again to the people of Quebec.
On August 18, I performed in front of the largest live audience of my entire career at St. Jean sur Richelieu, outside Montreal. According to an email from Sylvain Latour, Chief of the Cabinet Mayors office, there were over 40,000 people at the concert. On stage with me were my band, Glen Burtnik, guitarist Stephane Dufour and Eric Lapointe, who joined me to sing "100 Years From Now".
What a night! It has been a very, very long time since I have performed a new song and received a response like that - long live radio!
The release of my new CD in the USA will be in the first quarter of next year. It will contain at least one new track and an all-English version of "100 Years From Now" with another guest vocalist. Sorry for the delay but the success in Canada has caught us by surprise. (By the way, my reference to a new CD called, "The Grand Pieces Of Paradise" was meant as a joke, although some have written to us in earnest about this project. FYI the title's been changed to "Man of Serpent Crystal Cornerstones".)
Back in 2000, I had come to a crossroads in my life, unsure about what career path I should pursue. Shepherd, bouncer, philosopher king, ventriloquist or perhaps man on the flying trapeze. Fortunately, I was guided by Tim Orchard and my wife Suzanne back unto to the path of the Magical World Of Music. Primarily because of the smell of the goats and my overall appearance in circus tights, I believe whole-heartedly I've made the correct choice. I will continue to sing, write and perform as long as you allow me this privilege, or 'till I just flat get pooped.
Thanks again for your continued support.
The Hunchback of Notre Dame:
It's true, the Bailiwick Theater, under the Direction and guidance of David Zaks, will be presenting my musical in Chicago starting May 8, 2008. David has been interested in doing the show for the past few years but, frankly, I was very busy on the road building a solo career, something until I was in my mid fifties I had never truly committed to. David's enthusiasm for my musical convinced me that now is finally the time. As some of you are aware, I became ill months after the first staging in Nashville in 1997. At that time, the producers of the show hired a new director from Chicago's prestigious Steppenwolf Theater and were determined to get it to Broadway. Not only was I unable to continue working on the Hunchback but it affected my ability to tour with my former band. Bummer! Life has many surprises, "some happy some sad", but hell, let's "take the best and forget the rest" and some day we'll find...
Hopefully you know how this ends. See you soon on TV, on tour, at the Bailiwick in May or, see you in the funny papers.
Dennis
August 27, 2007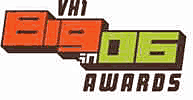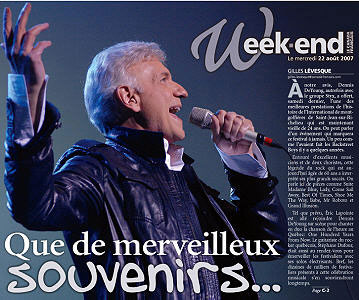 photo by Remy Boily - Le Canada Francais Newspaper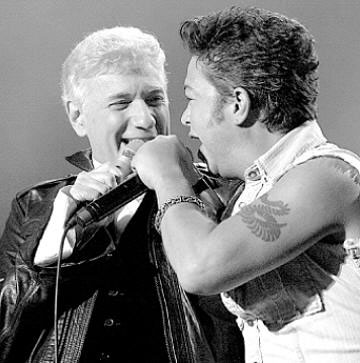 photo by Remy Boily - Le Canada Francais Newspaper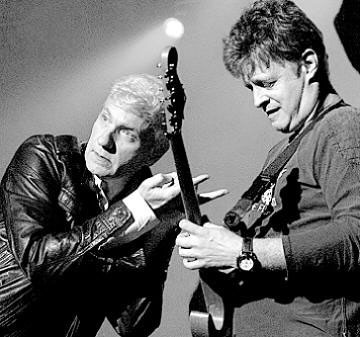 photo by Remy Boily - Le Canada Francais Newspaper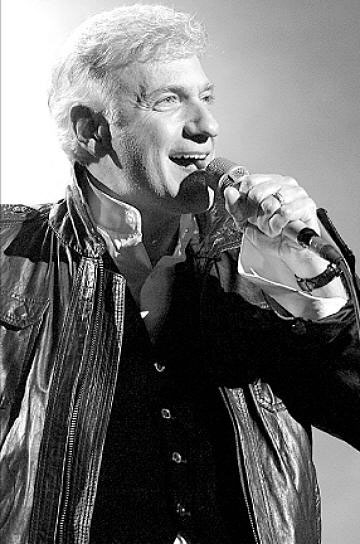 photo by Remy Boily - Le Canada Francais Newspaper
Hey Everybody,
My new CD "100 Years From Now" will be released in Canada on June 19th. The single of the same name was released about three weeks ago and is a duet with French Canadian rock star Eric Lapointe. The song is sung half in French and half in English. The original lyrics were written of course all in Aramaic but at the last minute I figured, too Mel Gibson. So I reverted back to good old American English. Some have viewed this as a critical error, seeing as how they like my music better when they don't understand what I'm saying...oh well, c'est la vie, which brings us to the French. I gave the English lyrics to Eric Lapointe and he kept the spirit of my intent and wrote new lyrics en Francais. Direct translations are of course impossible although there is one troubling line that I believe says "Dennis is a doofus", I just can't be sure.
This is the greatest collection of songs written and recorded since Tiny Tim's landmark live recordings of Blind Lemon Jefferson's "Ode To An Italian Beef."
Seriously, I'm very proud of the music on this CD and I hope those of you who have the chance to hear it will be bewitched, bothered and bewildered. (I was kidding about the seriously.)
Later this year the US version will be available with "100 Years From Now" in English. The English lyrics appear below.
Dennis
May 29, 2007
One Hundred Years From Now
Tell me how do we begin this tragic tale
When centuries of fear and hate have left a bloody trail
And will there come a time we'll live to see
When the sins of our fathers and mothers will cease to be
And can we find a way to live and let live
When we know the hardest part is learning to forgive
And who will be the first and who will be last
To admit that the future can never be lived in the past
So pray tonight pray we must
But prayers alone cannot build the trust
For all those people whose vengeance is their vow
Eye for eye tooth for tooth
Who among us will speak the truth
So our children's children will live in peace somehow
One hundred years from now
How do we repair the damage done
To all of those who've known the loss
Of daughters and of sons
And can we really feel another's pain
While the killing continues from Adam and Abel to Cain
So pray tonight we kill the beast
That lives among us from west to east
And all the people whose vengeance is their vow
Eye for eye tooth for tooth
Who among us will speak the truth
So our children's children will live in peace somehow
One hundred years from now
Hal Sparks and Dennis singing
" Come Sail Away" on: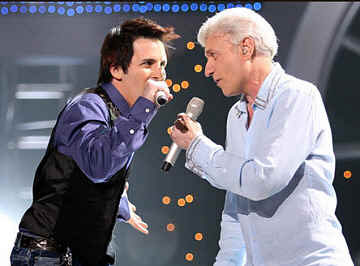 Dennis on Canadian Idol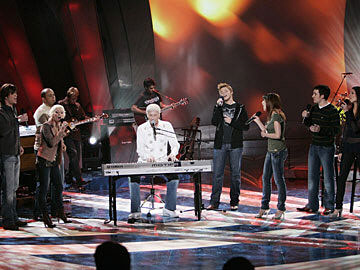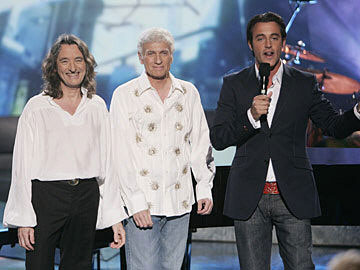 Roger Hodgson, Dennis and Ben Mulroney
August 22, 2006
Hey Everybody,
With so many unbelievable things happening to me this past year I have not had the time to put it all into perspective.
First, let me say that Suzanne and I have just celebrated our 37th year of marriage and as has been the case on more than one occasion the celebration took place was while I was performing. (No, not that kind of performing you nasty little buggers, I'm referring to singing and playing piano.) Many times over the years Suzanne has allowed me to put my professional needs over birthdays, anniversaries, holidays and family vacations.
Suzanne, for this I say thanks for always being supportive of me in every way. I have said this before but it bears repeating as to how fortunate I was to meet you and fall in love with you when you were just 15. You are the only girl I have ever loved and I feel lucky to have had you in my life. If there ever was a guy who made the perfect choice for a spouse it's me. Happy anniversary, and here's to 37 more. ( Let's see that will take us into our 90's, egad's!)
From the multi platinum success in Canada, to Star Academy, to Canadian Idol to Celebrity Duets to VH-1's Big IN "06" to countless usage's of my songs in movies and TV, to a Yamaha endorsement, I feel a bit overwhelmed by my good fortune. Never in my wildest dreams did I think such things were possible yet again. Suzanne, Tim, Dianna and I have worked very hard these last four years with little guarantee for success. But hell, a lot people work just as hard and never see results, I know I have been one of them. So to all whom have helped make this possible I send my heartfelt thanks.
To name a few: Paul Jessop, Maurice and George and everyone at DEP. To John Virant and Rounder Records Chris Taylor, Dave Harris, Randy Lennox at Universal, Julie Snyder, John Oshima, Paul Setzer, my band and my LD Matthew DeYoung, my publicist CarrieAnn DeYoung. Also Sujata Murthy, Todd Nakamine, Lori Lousararian, Our sound and road crews and Craig Bauer. Most importantly, to all of you who have come to my concerts and bought the CD and DVD, many thanks!
The threat is real! Yes it's true, I have been recording my first solo rock album since 1888, I mean 1988, and it just feels like 1888. The working title is "Back to the 10 on Desertchild". Just kidding it's actually "The Grand Pieces of Paradise". I have decided to return to my roots and I feel this is my edgiest and rockin'est record ever.(Hell everybody says this same BS don't they?) Truth be told the songs do not suck, and If your interested in a middle aged white guy who can still sing high you just might like it. For more cryptic discussion of this coming "masterpiece," keep an eye on this web site.
GO BEARS!
Dennis
January 26, 2007
Who is SPARKY THE FLYING DOG?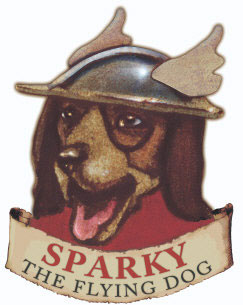 This year believe it or not is the 25th anniversay of the release of, "The Paradise Theater" album. In accordance with this event I have decided to tell the story of, " SPARKY THE FLYING DOG."
• Step one, drag out your "Paradise" record album or CD and get yourself a magnifying glass. On the album cover depicting the old rundown theater, look under the marquee on the right hand side and you will see a poster. With your magnifying glass in hand you will notice a picture of a dog with this banner, "Appearing Thru July 7, Sparky The Flying Dog."
• Next put on the, "Rockin the Paradise" tract and listen to the guitar solo and you will here me shout, "Go Sparky Go!"
• Next listen to the opening lyrics on this record, "Tonight the night we'll make history as sure as dogs can fly." Next play this tract backwards and....oh I'm sorry that was the, "Beatles" who did that, at my age I tend to get confused.
Yeah, so what you say! Who the heck is this mutt?
To me, Sparky was symbolic of many metaphors for the underdog, no pun intended. For instance, "The Little Train Who Could," "The Tortoise and the Hare," "Dumbo" etc. Those of whom little was expected but much was accomplished. A theme that I have explored many time in my lyrics, you know "Winners are losers who got up and gave it one more try."
I knew the odds against me realizing my dream of being a succesful musician were astronmical, but I believed I could fly, just like Sparky! Hell everybody knows dogs and guys like me can't fly, but we did. So Sparky represents that spark in all of us that refuses to take no for an answer. Here's to all the the Sparky's of the world, the ones who have flown and those about to.
PS. When traveling on the road throughout the 80's I stayed under the name of Sparky Allen. Souvenir Sparky T-Shirts are available at all live concerts.
Dennis
July 6, 2006
Hey Everybody, or perhaps I should say bonjour mes amis.
Long before Styx was able to sell platinum albums and headline concert tours in the USA, we were able to accomplish these things in Canada. How so you ask? Well, I answer, the French Canadians of Montreal and Quebec City, radio station CHOM and a little song called Suite Madame Blue. That song was so embraced by our friends to the North that it turned Equinox into a multi platinum album, our first anywhere in the world. When released in the states Equinox didn't even reach gold. In America we continued to work our way up the ladder by being the support act for Kiss, Aerosmith, ZZ Top, etc., while we were true headliners in Canada. Remarkably, a recent poll in Quebec found Suite Madam Blue number three on the all time list of favorite songs behind Stairway to Heaven and Hotel California.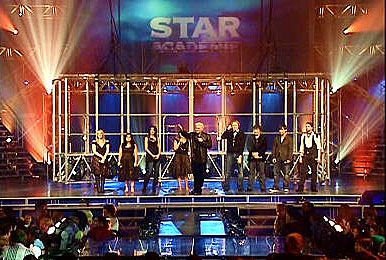 Because of this, Canadians and especially French Canadians will always be dear to my heart. When we played The Forum in Montreal for the first time, the entire audience stood with lighters in hand and sang every word to Suite Madam Blue, Because of that, I knew success would soon be ours!
Once again the French Canadiens have shown their love and support for my music. I recently appeared on a TV show in Montreal called Star Academie. It's a combination of American Idol and Fame all rolled into one. My good friend Paul Jessop from Universal Canada arranged my performance through Patrick Binnette and Julie Snyder the host of the show. I'd like to thank everyone at Star Academie, the contestants, Scott and the band, Julie, and of course the people of Quebec for their unbelievable response to my performance and the upcoming concerts, and all the support from my good friends at CHOM radio....and DEP. Check out the streaming video .
MERCI BEAUCOUP
Dennis
December 2, 2005
HAPPY 36TH ANNIVERSARY TO MY WIFE SUZANNE
I loved you when I met you in 1964,
I loved you when we dated in 1965,
I loved you when we became engaged, 1966,
I loved you in 1967, 1968, 1969,
I loved you when you became my bride, 1970,
I loved you when we had our first child, 1971,
I loved you during the years we tried for a second child, 1972, 1973, 1974, 1975,
I loved you for helping me through the tough times, 1976, 1977, 1978,
I loved you when I wrote my first number one single (BABE) for you, 1979,
I loved you when you gave birth to our son 1980,
I loved you for continuing to be my partner in life, 1981,1982, 1983, 1984, 1985, 1986, 1987, 1988, 1990, 1991, 1992, 1993, 1994, 1995, 1996, 1997, 1998, 1999, 2000, 2001, 2002, 2003, 2004, 2005,
I have loved you every day of my life 2006.
Like most men this is for all the times I forgot to tell you!
Forever,
Dennis
Hey Everybody,
To be honest I'm not sure where to begin. So many exciting and literally unbelievable things have occurred over the last few weeks that I'm nearly speechless (remember I did say nearly).
First, THE CHICAGO WHITE SOX WIN THE WORLD SERIES! That's right SEIRES DLROW EHT NIW XOS ETIHW OGACIHC EHT, backwards. forwards anyway you like it it's still true.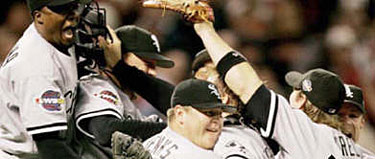 My dad took me to my first Sox game when I was nine years old and to this day I still recall the moment we emerged from the dark concourse stairs leading us up to the field and into a magical world of emerald green and blinding sunlight. One hand in my dad's the other in my glove, with the dream of catching a foul ball, I stood at the crossroads of innocence and hope. Oh the sights of the uniforms, the scoreboard, the upper deck and the enormity of the park itself. The sounds of "peanuts, get your peanuts," "hey ump get's some glasses," the organ playing "Take me Out To The Ballgame" and of course the crack of the bat. The smells of fresh grass and hot dogs mingling perfectly with the aroma of beer and cigars.
A day to remember, a day forever etched in my mind.
WHITE SOX WORLD CHAMPS, long time coming, worth the wait. I only wish my dad were here to have seen it.
When I Hear A Christmas Song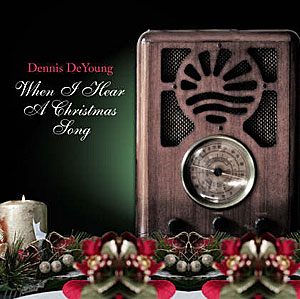 I've written a Christmas song entitled "When I Hear A Christmas Song. I played it for Suzanne and my family and they agreed I should definitely do something with it. So I sent it to some of my friends in radio and to John Virant the president of Rounder Records, the distributor of my live album. Everybody loved it. So Rounder will be releasing it to radio for play during the holiday season. It will be avilable through I Tunes in the next week or so. The song is an old fashioned traditional kind of tune, one that I hope will bring everyone a warm and loving feeling for the holidays. (If you would like a copy, click here.)
Dennis
November 2, 2005

Hey Everybody,
These photos are from an event I performed at in Chicago's Arie Crown Theatre last Saturday night. It was a benefit for the Chicago Police Memorial Foundation, a very worthy cause. Actor and former police officer Dennis Farina and comedian Tom Dreesen spearheaded the event with help from several of us from the Chicago sports and entertainment community.
To name a few: Gary Sinise, Vince Vaughn, George Wendt, Joe Mantegna, Robin Tunney, Larry Minetti, Peter Cetera, William Petersen, Mike Ditka, Jim MacMahon, Jimbo Covert, Matt Suhey,Shaun Gayle, Steve McMichael, Leslie Frazier, and last but not least Greg Maddox who informed me that growing up in Las Vegas he was a Styx fan. I'm waiting for that group photo to arrive, and when it does I'll post it.,

At present I've begun work on a new CD that I'Il hopefully finish by the end of the year.(Though which year I'm not completely sure.) The songs deal with topics such as sailing away, to robots, to really big illusions to...hey wait a minute somethin fishy here. Truthfully this collections of songs are the greatest I have ever written in my entire life. (Which is musician code for, they don't suck as much as I thought they might.) Some working titles are, Hey Juice, Stairway to Hefner, Sweet Home Alla snackbar, and A Whole Lotta Luft, a song about Liza Minelli's sister. Many of you are now wondering why you took time out of your busy lives to read this, sorry I have no answer for you. Seriously the actual song titles have been hermetically sealed in a vault in Berwyn Ill. and will be posted just as soon as I'm sure they will not embarass my friends and family.

Enough nonsense. I have been moved to tears as many of you have by the images of our fellow Americans and the scope of the destrucion and misery caused by hurricane Katrina. My families heart goes out to all those affected by this national tragedy. I urge everyone to contribute in any way they can to help. There but for the grace of God go I.
Dennis
September 9, 2005
"The Perfect Man" In Theaters June 17, 2005Copyright Universal Pictures
Hey everybody,
CarrieAnn, Suzanne and I just retuned from the "Perfect man" premiere in L.A. at Universal Studios City Walk. Hillary Duff, Heather Locklear and Richie Sambora, Mike O'Malley, Carson Kressley from Queer Eye, Caroline Rea, Mr. Roboto blasting from the sound system, red carpet, countless paparazzi the usual suspects and... well me. How low can Hollywood stooooop.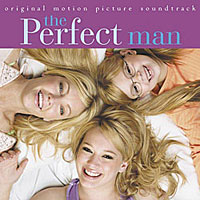 As we walked the red carpet shouts of "Dennis, Dennis over here to your left, right behind you" were heard. I was really excited until I realized I was blocking their view of Heather and Hillary. Hmm, Heather and Hillary, I believe that's the Democratic ticket for 'O8. Seriously it was quite exciting and the after party at the Hard Rock was..well noisy and crowded.
Free food and drink brings out the worst in people. The movie is fantastic. Warm heartfelt and funny, Marc Rossman did a terrific job telling the story and most importantly incorporating my songs into the plot. It's great family entertainment without being sappy. Everyone is great and Mike O'Malley is especially good as the die hard Styx fan. I of course play a singer in a Styx tribute band named "Kilroy".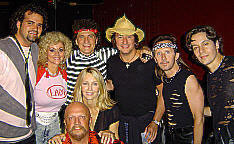 If you have trouble recognizing me I'm the guy who looks like the love child of Tommy Lee and Mike Reno. The band consists of Matthew my son on drums, Hank, Tommy, and John from my band all in disguise. I must say it made me laugh. Remeber now this is all in good fun and meant to bring a smile to your face.
The soundtrack CD is quite good and contains all four of my songs used in the movie, Mr. Roboto, Babe, Lady, and The Best of Times. It's available on Curb Records.
If a few years back you would have told me four of my songs would be in a movie, again and I'd actually be in it, well...you know...
"Winners are losers who got up and gave it one more try"
Dennis
June 15, 2005
Hey Everybody,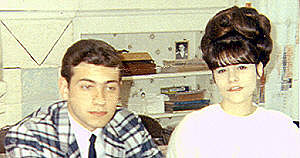 April 11, this year, Suzanne and I celebrated 41 years together. This of course includes our dating and going steady way back when humans did such things. As I reflect on our lives together, the one thing that stands out is how vital Suzanne has been to my musical career. Not simply because she has been the inspiration for so many of my songs (Lady, Babe, etc) but how important her belief and support was critical to the sucess of Styx. Yes the sucess of Styx. During the Equinox tour of 1976, I felt I could no longer continue touring and making albums. I had become disillusioned and quite frankly depressed over what I perceived as the failure of Equinox to reach its full potential. I had lost faith in myself and in my dream.
Through this very difficult time, Suzanne stood by me, sheltering me, protecting me, loving me and encouraging me to get back on my feet and return to my music. She understood it was what I needed. I did, but not until she agreed to accompany me on the road. I needed her there for moral support. She agreed immediately and took our daughter CarrieAnn out of school to join us on tour. She home schooled CarrieAnn by visiting her teachers every two weeks to gather all the material CarrieAnn would need to continue her education. When Mathew was born in 1980, he became part of our family entourage. Both Suzanne and I took full responsibility for our children while touring over 100 cities each year. Most of the work fell on Suzanne's shoulder, for we never used nannies or outside help of any kind. Everyone out there with children, imagine if you will; you, your spouse and your kids in a hotel room over 125 days each year, that's right, twenty-four hours a day. Did I just hear a giant gasp? Instead of being relaxed and comfortable in our home raising our children, Suzanne made the sacrifices needed, so that I could continue touring. I owe her a lot. Without Suzanne, I doubt that "Crystal Ball", "Grand Illusion", "Pieces of Eight", "Cornerstone", "Paradise", "Kilroy", or any of my solo albums would have been recorded.
Since we were teenagers Suzanne has shared my dream of becoming a professional musician. Hell, she loaned me four hundred dollars to help pay for my first electric organ. When it came to me or my career, she was selfless and dedicated to my goals. She is the only woman I have ever loved and I'd like to thank her for all she has given me over the years. It is in my humble opinion, more than I deserve
Dennis
April 1, 2005
Hey Everybody,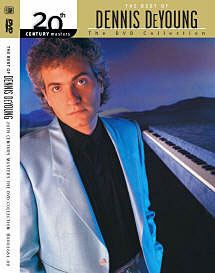 '04 was an incredible year and '05 looks even better, what with concerts lining up everywhere. The good people at Universal have dug down into their precious vaults and have come up with gold. The "20th' CENTURY masters' THE BEST OF DENNIS DeYOUNG , The DVD Collection is a reality. I must say that I'm thrilled to once again see myself driving a red 1965 Mustang convertible into that fake Midwestern sunset. Of course I refer to my favorite video 'Desert Moon'.This affords me the opportunity to shed a tear, not for the theme of lost innocence but for the loss of...hey, how the hell did I fit into those jeans and what happened to my brown hair? This video collection reminds us of a time when 'VHI' actually played videos and was less focused on the amorous affairs of Sly Stalone's ex-wife and that Flavr...what's his name guy! Here's to a simpler time when rock stars were foolish enough to pretend to be actors. On the other hand I am in that new Universal picture 'The Perfect Man,' apparently they didn't see any of these videos.....
Dennis
January 2005